Farnborough International expands venue Sales team
Farnborough International Ltd has announced the appointment of two new members of its venue sales team. Lucy Gibbons and Carlo Zoccali will join the Farnborough International team as Venue Account Manager and Venue Account Director respectively.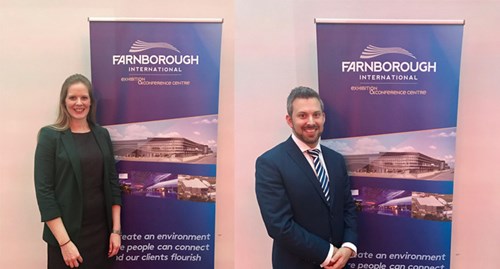 Lucy and Carlo will both report to Farnborough International's Venue Director Michael Watton. The pair bring more than 20 years of sales experience to the expanding venue sales team who are looking to build a business pipeline for Farnborough International's existing and future exhibition and conference venues.
Lucy joins from Birmingham's International Convention Centre where she was Senior Account Manager and Carlo joins from Arsenal Football Club where he was Events Sales Manager for its venue and events business.
Farnborough International will launch a new, permanent state-of-the-art exhibition and conference centre in mid- 2018 on the site of the temporary Hall 1 building used during the biennial Farnborough International Airshow. Comprising 20,000 sqm of event space, the new structure will be flexible enough to cater for almost any kind of exhibition, conference, meeting, dinner or launch event. It measures up to 12,500sqm of exhibition space, 2,500 conference seats and fourteen multiple purpose-built function rooms.
Carlo Zoccali, Venue Account Director commented: "I'm excited to be joining the team at Farnborough International. The new venue is going to be such a fantastic asset to the UK events scene and it will be fascinating to be involved from the beginning."
Venue Director, Michael Watton, said: "Lucy and Carlo have joined Farnborough International at a time when our venues team is going from strength to strength. We are keen to build an experienced team who can hit the ground running and generate excitement about our new venue at the home of pioneers in Farnborough."
-Ends-
For more information and photographs contact Ken Kelling at Davies Tanner [email protected]  or Alex Tunney [email protected] or on 01892 619100.
Notes to Editors
Farnborough International Ltd (FIL) is a subsidiary company of ADS, the trade organisation advancing UK Aerospace, Defence, Security and Space industries. FIL has a three-strand business as the organiser of the biennial Farnborough International Airshow (FIA), operator of Farnborough International Venue and Events, and as international consultants for civil, defence and business aviation events including Bahrain International Airshow (BIAS) and India Aviation. FIL is made up of a team of industry experts focused on delivering innovative, cost-effective events and maintaining the standing of its shows and venue as world-class in a competitive global industry. FIL has its permanent headquarters at TAG Farnborough Airport in the United Kingdom.