What we do
We create an environment where people can connect and our clients flourish.
Farnborough International Exhibition & Conference Centre is located at the home of pioneering spirit and the gateway to the South East of England. Just 35 minutes from Central London and Heathrow, Farnborough is the perfect location for both national and international events.
Operated by the same talented team who expertly organise, run and deliver the world famous Farnborough International Airshow, Farnborough International Exhibition & Conference Centre is open for business all year-round, hosting conferences, exhibitions and corporate events.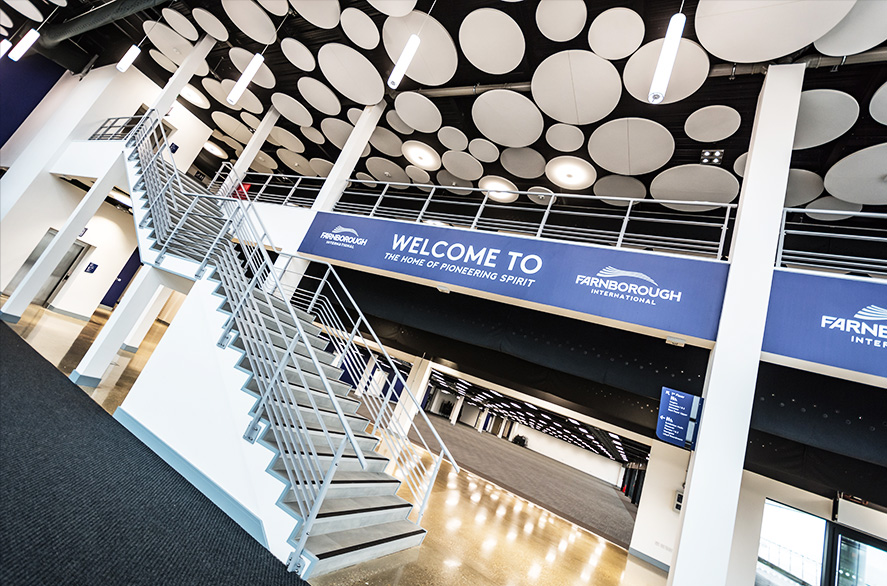 The most exciting new space in the UK.
The new 20,000 sqm facility, Hall 1, opened in Spring 2018. Designed by Terrence O'Rourke, the iconic Hall 1 comprises 12,500sqm of exhibition space, a conference space for up to 2,500 delegates plus additional flexible conference, meeting and function rooms.
Technology and design
It is technologically advanced, with high speed connectivity enabling organisers to create the next generation events.
The new Hall 1 sits alongside the existing Hall 5 which provides a further 3,000sqm of event space. The site has parking for up to 3,500 cars.