FARNBOROUGH'S NEW £30 MILLION EXHIBITION AND CONFERENCE CENTRE IS OPEN AND READY FOR BUSINESS
Farnborough International's new Exhibition and Conference Centre is open for business. The £30 million venue rivals any Central London events location and is the only facility of its type in Hampshire and the surrounding counties.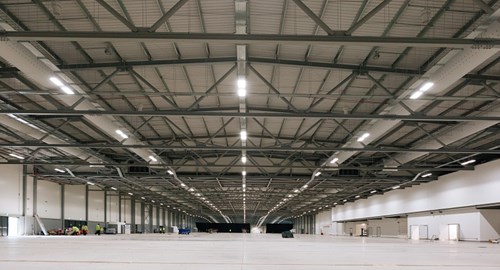 At the heart of the new venue is a vast space: a 12,500sqm exhibition hall which is large enough to accommodate three football pitches, 46 basketball courts, or 16 Olympic swimming pools. Surrounding the exhibition hall are ten conference and events areas, bringing the total amount of flexible space to 20,000sqm.
The opening of the new Exhibition and Conference Centre is an important milestone for Farnborough, boosting the borough's status as a major business hub. Designed to attract companies of all size looking for versatile space to host events, the venue will deliver wider benefits to the local economy with increased demand for hotel rooms, taxis, restaurants and in shops. 
Gareth Rogers, Chief Executive of Farnborough International Ltd (FIL) says: "The new Conference and Exhibition Centre is a hugely impressive venue and I am delighted to announce that it is open for business.
"Farnborough International's reputation for delivering major events is growing nationally and internationally, which is great news for our home town; we carry its name with pride and, with the opening of this Centre, are set to increase our direct and indirect contribution to the local economy."
Councillor Ken Muschamp, Rushmoor Borough Council's Cabinet member for Business, Safety and Regulation, said: "Farnborough has a proud heritage of innovation and a thriving future ahead as a location for doing business. This new venue is a major asset for the area and really puts Farnborough on the map, as well as benefiting our residents who will be able to enjoy top-tier events on their doorstep.  It is modern, purpose-built and run by a truly local firm who are world class at delivering events."
The new Exhibition and Conference Centre joins a portfolio of existing venues on the site and already has a number of events confirmed including Screwfix Live, Merchandise World and Kidz to Adultz South. It will be an important element of this July's Airshow; providing a high-quality experience for the thousands of delegates that visit. 
Farnborough's aviation heritage is reflected in the building's design. Developed by architects Terence O'Rourke, the look and feel of the new venue draws heavily on this pioneering spirit, taking inspiration from the innovation carried out across the airfield in the legendary wind tunnels.